LEE'S NEW BOOK
Teaching Amidst the
Neon Palm Trees
An exciting true story



Intrigue and Corruption
in Las Vegas.
Click Here

Our current captain is Donal Ryan, an Irishman. Our first captain was a Swede, Anders Anderson. Captain Ryan came aboard in Cape Town. Captain Anderson left the ship at that port to go on vacation.
I got invited to dinner with Captain Ryan on the way to India. Over the course of the voyage, Captain Anderson had been inviting small groups of faculty and staff to dine with him and his officers. Captain Ryan has been inviting those who didn't get to dine with his predecessor. The food was very good—a nice change from the mediocre food that we normally get.
Excerpt from a journal entry dated March 24, 2003
Things have pretty much continued according to routine since my last entry. That, in fact, has made everyone restless. Students and faculty alike are getting sick of being at sea without a break.
It has turned out to be very difficult for Ed to find an acceptable port for us to visit. SARS has spread rapidly across East Asia. To make matters worse, we were scheduled to spend ten days in dry dock in Hong Kong for some inspections and repairs that must be done before our scheduled return to the U.S. No one is allowed to stay onboard while the ship is in dry dock and we were all scheduled to stay in a hotel. Ed has been searching for a SARS-free port with dry-dock facilities and enough hotel rooms for more than 700 people. Not an easy task!
Last night was the "graffiti dance." Students wore white t-shirts, and invited people to write messages on them with a marker. I went to a birthday party for Marilynne Glatfelter, Ed's wife, in the Navigator Lounge, and then caught the tail end of the party in the Union. Many students wrote messages on my t-shirt.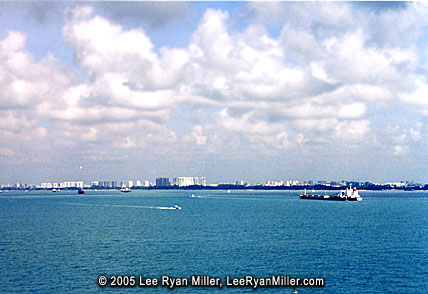 This is the closest we got to Singapore.
We were anchored very far off shore in response to the
SARS outbreak there.
Despite the party, shipboard morale is sinking. Tara, the young woman who'd slept on the hammock next to mine during the Amazon trip, struck up a conversation. She was very upset that so many people were complaining about the itinerary change. "I can't believe that we've been able to visit so many wonderful places on this trip," she said, her eyes full of tears. "If we headed home right now, I wouldn't be disappointed. This has been an incredible voyage. How can they complain about not being able to go to Hong Kong or Vietnam? Why can't they see how lucky we are?"
This morning, on March 24, we stopped in Singapore to take on more fuel. We were not allowed to go ashore, because there have been cases of SARS there. So we anchored in the middle of Singapore harbor and a tanker ship pulled up alongside us. It took the whole day for it to fill up our fuel tanks.
At 10:00 a.m., a small boat pulled up alongside us. The Vietnamese interport students, as well as Thien, the Vietnamese interport lecturer, climbed down a rope ladder and boarded the boat. They were taken ashore, so that they could catch a plane back to Vietnam. That was a really sad moment. I felt bad for them. They could not continue on the voyage with us, as had been planned. It really brought home the reality that we would not be going to Vietnam.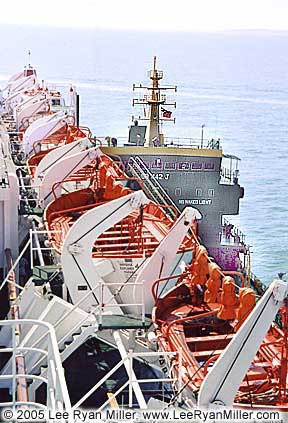 A fuel tanker ship refueled us while we
were anchored off of Singapore.
People have been getting very irritable about all the uncertainty. We just keep sailing onward, but no one knows where we're headed or when we'll get there. The mood lightened a bit when someone started selling guesses as to where our next port will be. The proceeds will go to Students of Service, a student group that donates money and supplies to schools, orphanages, and other charitable organizations in the countries we're visiting. I looked at the world map and guessed Tianjin, a port city near Beijing (which lies inland). Singapore, the Philippines, and Taiwan were ruled out, due to SARS—as was most of southern China. Another popular guess was Vladivostock, a Russian port city northeast of Korea. There were numerous other guesses.
Excerpt from a journal entry dated March 27, 2003
Classes have continued without a break. Everyone is getting increasingly restless. Today we're on day B18. Classes had been scheduled for a total of 23 A days and 23 B days. In other words, there should only be 5 more A days and 5 more B days of classes remaining. Faculty and students alike are unhappy by the prospect that additional days of classes could be substituted for days that we'd been planning to spend ashore.
Finally, this morning, Ed announced that SARS had become a problem in northern China, and that we would not visit China at all. He said that we would be going to Nagasaki, Japan, scheduled to arrive on April 1.
Some people grumbled about not visiting China. But in general I think the shipboard community breathed a sigh of relief. The uncertainty was stressing people out. It was nice to know where we were headed.
I e-mailed Beth with the news, inquiring whether she might be able to visit for an extra week to ten days, so that her visit could encompass the stretch from Nagasaki to Osaka. I look forward to hearing back from her. I hope she can do it. I miss her.
Excerpt from a journal entry dated March 29, 2003
Yesterday, Ed announced the updated itinerary: we're going to Nagasaki, Pusan, and Osaka, and then home a week early. I'd wanted to e-mail Beth to let her know. But the internet connection was down, so I spent around $20 or $30 to call her on the ship phone and leave a short message on our home answering machine. We're scheduled to arrive in Nagasaki in just three days, and there's not a moment to lose if Beth is going to try to rearrange her flight to meet us there.
Today is a TBA day. Last night I stayed up late, thinking that I could sleep late. This morning I woke up at the normal time, and could not fall back asleep. I am very tired.
My friend Ally has been letting me use her computer to check my e-mail. She's assistant director of the computer lab. She has a wireless internet connection for her laptop. My laptop is too old to support a wireless card. The ship is charging us 50 cents per minute for internet access. In the shipboard internet café, you have to pay for the time it takes you to read a message and type a reply. With a wireless connection, you can retrieve your messages and immediately disconnect. You can read and reply and then re-connect only when you're ready to send your messages. That's a lot cheaper.
The ship's satellite internet connection was finally restored late this morning and Ally lent me her computer to check my messages. I got several pieces of very bad news. First of all, Beth wrote that she would be unable to meet us in Nagasaki. Three days just was not enough notice. That means that I won't see her until I get back to the US. That's a huge disappointment.
I also got a message from a friend of Gary, my roommate during my final year in grad school. Gary had died after a prolonged illness. He was a close friend, and I was very sad.

You may navigate the Semester At Sea section using the arrows.