Excerpt from a journal entry dated May 2, 2003
I wore myself out yesterday trying to complete my grading. I finished around 11:00 p.m. I turned them in this morning.
Today I completed the end of semester faculty survey and donated a bunch of my unneeded items to Students of Service. I also wrote the final grades on the papers from my classes, sorted them, and stuffed them in my students' mailboxes.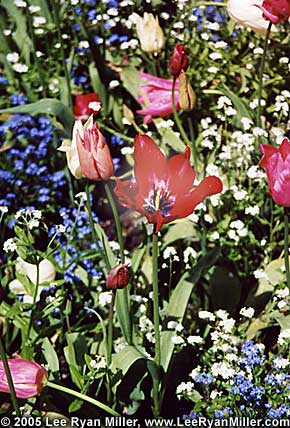 I visited the beautiful Butchardt Gardens
while in Victoria, British Columbia, Canada.
There was a graduation ceremony today for students who were graduating seniors. Most of them will miss the official graduation ceremonies at their home institutions. Our ceremony was very nice. There was a lovely performance by the chorus and another by an a cappella group. There were also several short speeches, including a particularly eloquent one by history professor Kevin Murphy.
Excerpt from a journal entry dated May 5, 2004
We spent yesterday and today in Victoria, British Columbia, Canada. This was the most relaxing of all our port calls. It was safe and comfortable. I also had no more responsibilities to worry about. My grading was finished.
I did a bit of leisurely sightseeing. I walked about town, exploring the sights. I visited the Royal British Columbia Museum, which housed some wonderful natural history and human history exhibits, an impressive gallery on the native peoples of Canada, as well as an IMAX theater.
LEE'S NEW BOOK
Teaching Amidst the
Neon Palm Trees
An exciting true story
of
Intrigue and Corruption
in Las Vegas.
Click Here

Victoria is the capital of British Columbia and I made sure to visit the Parliament building. I went to the lovely Butchardt Gardens with Sheila. Although I never got the chance to dine in China on this trip, I had some nice meals in Victoria's Chinatown.

You may navigate the Semester At Sea section using the arrows.