LEE'S NEW BOOK
Teaching Amidst the
Neon Palm Trees
An exciting true story



Intrigue and Corruption
in Las Vegas.
Click Here

Afterwards, we visited the mosque. Inside, we took off our shoes. No one else was there besides us and the immam. By tradition, men and women are separated in a mosque. Arif showed Bryan and me how to wash: hands and forearms, feet, face, etc. Then Arif said his prayers on the mat in the prayer room. His prayers consisted of reciting verses from the Koran in Arabic.
It was an interesting juxtaposition, visiting the shrine and the mosque.
Afterwards, we returned to Osaka. We visited the Mint Bureau gardens to view the cherry blossoms. It seemed peculiar to view cherry blossoms at night. But they were lit up, and hundreds of other people were there for the same reason.
The blossoms were beautiful. I had no idea that there were so many varieties. They varied in color from white to pink to red, and from the size of pennies to the size of carnations. Nearby there were stalls selling food, like corn on the cob and chunks of octopus fried in batter. I had some of the corn.
Two night's earlier, when Hiroko and Mariko had explained at the cultural pre-port meeting that Japanese were fond of eating "octopus balls," everyone had bust out laughing. The young women were perplexed by this reaction. This evening at the cherry blossom festival, I explained to them that the students had laughed because they'd thought that Japanese ate octopus testicles. The young women found this very funny.
The next morning, I left for an overnight trip to Nara and Kyoto. I was not enthusiastic about going on this trip. I had scheduled it specifically because Beth had wanted to take a trip with an overnight stay in a Ryokan, a traditional Japanese style inn. Beth had been unable to join the voyage, after our itinerary change, and I was not very enthusiastic about making this trip without her. It turned out, however, that this was a wonderful trip.
The drive to Nara took about 90 minutes. Nancy Henry sat next to me. She is an elderly lady from Virginia. She talks nonstop. She told me everything you can imagine, from her childhood on a plantation, to her unhappy marriage and divorce, to her life traveling the world, living off her fortune. Eventually, I told her I was tired, and I took a nap.
We spent the first day in Nara, the first capital of Japan (in the 8th century, I think). Upon arrival, we visited the Horyuji Temple, which is the oldest wooden structure in the world. It is over 1300 years old. Japanese Buddhist temples are made of wood, as are Korean ones. All other wooden temples of that age have burned down over the centuries, but this one somehow has survived.
We had lunch at a restaurant. It was sort of Japanese-style Western food. There were little sandwiches with the crust cut off, salad, with soy/sesame dressing, etc. The restaurant overlooked a beautiful Japanese garden. Japanese gardens, unlike Western gardens, tend to be hilly, incorporating streams, waterfalls, boulders, etc. They have a very natural feel to them, but they are still carefully manicured. It is sort of a stylized depiction of nature, as opposed to a Western garden, which tends to be more an arrangement of plants and flowers without trying to emulate nature. I think the Japanese style has something to do with Shinto, the traditional religion that focuses on reverence for nature.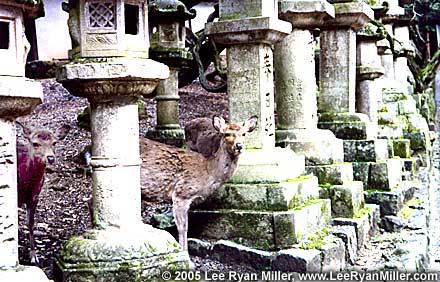 Deer roamed the many temples and shrines located in Nara,
an ancient capital of Japan.
After lunch, we walked across a large park full of deer. The deer were very tame. You could pet them and feed them crackers that were on sale from various venders. One deer tried nibbling on the back pocket of my jeans. It tickled.
At the far side of the park was the Todaiji Temple. It was built in the 700s, and houses a huge bronze Buddha. Inside the temple there is a wooden pillar with a rectangular hole carved in it. The hole is just big enough for a slim person to crawl through. Legend has it that people who crawl through the hole go directly to paradise after this life, rather than having to be reincarnated. At the encouragement of my students, I crawled through. I had to go through diagonally, rather than face down, so that my shoulders would fit. A student on the other side helped to pull me through, while another took a picture of me.
Afterwards, we visited the Kasuga Shrine. Like many Shinto shrines, you had to climb up a hill, crossing through a couple of torii gates. The path was lined by little stone pagodas. Moss clung to the pagodas, and deer wandered freely. It was very pretty.
We boarded our tour bus and drove to our ryokan in Kyoto. A ryokan is a traditional Japanese inn. I shared a room with Marci and Jim. Both are psychologists. Marci is the assistant counselor on the ship, and her husband Jim (who is retired) accompanied her on the voyage.
Our room was very beautiful. We had two 8-tatami rooms (tatami mats are about three by six feet), a private bathroom, and a beautiful garden just outside our windows. By tradition, in a ryokan you take off your street clothes and wear a yukata (Japanese cotton robe) and slippers, which are provided by the establishment.
We had a nice sukiyaki dinner (the meat was excluded for the vegetarians). My roommates and I, plus a few others, took a cab to the Gion district, where the geisha work. We went to a show demonstrating some traditional Japanese art forms: tea ceremony, koto (Japanese harp) performance, flower arrangement, gagaku (a style of traditional music and dance traditionally performed at court banquets), Kyogen (ancient comic play performed as an interlude for Noh plays), Kyomai (traditional dance), and Bunraku (puppet performance). The music was lovely, and the costumes beautiful. The puppet performance was characterized by extraordinarily lifelike movements. The puppet was not manipulated by strings, as in the Western tradition. Instead, 3 men dressed all in black moved the large puppet by hand. I was amazed at how effectively they coordinated their movements.
The performance lasted about an hour. Afterwards, we walked around Gion. Our guide had advised us that there were only about 75 women working as geisha and apprentice geisha; she said that it was unlikely that we would see any. If this is true, we were extraordinarily lucky. We saw four during our stroll around Gion. They were very graceful and beautiful.
Before bed that night, I soaked in the big communal bath down the hall, as is traditional in a ryokan. I was extremely relaxed afterwards, and fell right to sleep.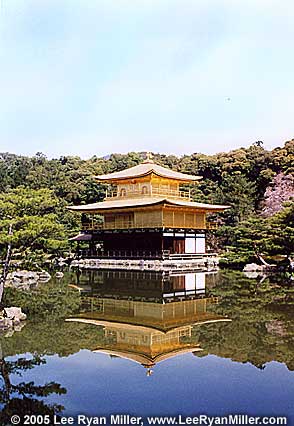 "The Golden Pavilion"
at the Rokuon-ji temple in Kyoto, Japan.
In the morning, we had a traditional Japanese breakfast (miso soup, rice, fish, vegetables, etc.) and then set off to explore Kyoto. We visited the Rokuon-ji temple, with its famous "golden pavilion," a large pagoda covered with gold leaf jutting out into a tranquil lake. It was beautiful, as were the gardens.
We also went to Nijo castle, the castle that was used by the Shogun when he visited Kyoto. Like other Japanese castles, it was constructed of wood, and was protected by a high stone wall. But it had some very interesting security features. The floor was designed to squeak when one walked upon it (the sound likened to a nightingale), so that it would be hard for assassins to sneak in during the night. Also, the audience rooms all had a door leading to a room where the shogun's guards hid, just in case there was a problem. Visiting samurai were forced to turn in their long swords (they were permitted to keep their short swords), and were required to wear extra long pants. If they tried to kill the shogun, they would trip over the pant legs and would have a hard time running away.
The gardens had wonderful cherry blossoms. We were very fortunate that the cherry blossoms were in bloom during our port calls in Nagasaki, Pusan, and Osaka.
We enjoyed a wonderful lunch at the Restaurant Ganko Takasegawa Nijoen. It was located in the former home of a prominent politician. It was beautifully decorated in traditional Japanese style, and had a lovely garden. Lunch was a huge feast of tempura and shabu-shabu – tofu, vegetables, and meats that you cook on the table in your own bubbling paper pot set above a little candle. Unique to Kyoto, the pot was full of boiling soy milk.
After lunch we visited the Sangju-Sangen-Do Temple. This temple had a large hall housing 1001 golden statues of the Buddhist deity Kannon. The statues are arrayed on bleachers, such that the ones in the back are higher than the ones in the front. These legions of multi-armed goddesses of mercy were guarded by some thirty other statues arrayed in front. The effect was breathtaking.
This temple was also famous for an annual archery tournament for samurai. Nowadays, there are no samurai, and common people compete.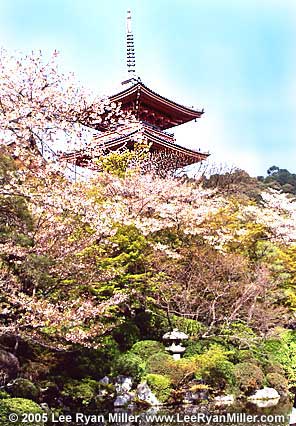 A pagoda in the Kiyomizu temple
complex, near Kyoto, Japan.
Our last stop was the Kiyomizu temple complex. We visited a series of temples and pagodas on a hill, with beautiful gardens in the canyon down below. There was also a spring from which issues what is reputed to be one of the ten best-tasting waters in Japan. The water drops in four small waterfalls down into a pool below. People line up to catch the stream in tin cups with long handles. After drinking, people place the cups in a device that sterilizes them with ultraviolet light so that the next person can use them.
While I was standing in line to try the water, a group of old ladies elbowed me aside and cut in front of me. I later told our guide about the experience, and she said that people in Japan sometimes talk disdainfully about the "rude oba-san."
As for the water, it tasted good, but I'm not entirely sure what all the hoopla was about. Perhaps one needs to be Japanese to fully understand.
The following day, I went with Sheila (the elderly English professor with the cabin next to mine) to check my e-mail. Sheila had located a free Internet café near the Umeda station. We ran into Deborah, one of the post-grads (the name given to passengers who are not faculty nor staff nor family nor students) and had lunch. Sheila was not feeling well (she was later diagnosed with pneumonia—poor thing) and Deborah and I went to explore Osaka Castle.
The castle grounds are an enormous park in the center of the city. The castle is surrounded by a water-filled moat, followed by a high stone wall, followed by a dry moat, followed by another stone wall. The castle itself was destroyed in various wars, and was rebuilt in the1970s. It is very pretty from the outside. The inside is a museum devoted to the history of the castle. That history is quite interesting. It was built by Toyotomi, a rival of Tokugawa Ieyasu, the nobleman who united Japan and became the first shogun in the 1600s. Toyotomi was never defeated by Tokugawa, and it was not until after his death that the shogun was able to subdue his clan.
The next day, my final day in Japan, I visited the aquarium next to the location where our ship was docked. It was the most beautiful aquarium that I have ever visited. I liked it better than the Monterey Bay Aquarium near where I live.
The aquarium has eight stories. You take a big escalator to the top and then walk downward. Most of it is taken up by huge tanks, which you view from different depths. This gives you multiple views of the sea creatures inhabiting the tanks.
One of the best things about the aquarium was that it was not very crowded. It was possible to watch the sea otters being fed or the trainers play games with the dolphins without having to peer over hundreds of heads. It was great.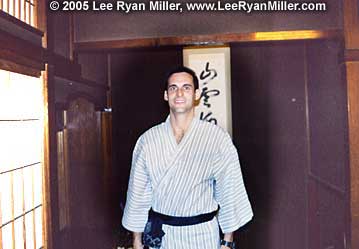 While staying at an inn in Kyoto, Japan,
Lee followed the Japanese custom of
wearing a yukata robe.
On-ship time was 1400 hours. I said goodbye to the interport students, Hiroko and Mariko. They were crying, and said that they wished they could stay on the ship and continue the voyage with us. They were very sweet, and gave me some small gifts like a bookmark and a little animal figure.
When the ship set sail around 1600 hours, I could see them on the dock waving. They had waited two hours to watch us sail away. I waved back.
I did my first author talk yesterday, April 19. Just about every evening at 2000 hours there is a "community college" presentation. These are hour-long lectures on topics of general interest. I had volunteered to read some excerpts from my memoir, Teaching Amidst the Neon Palm Trees. I had asked for the talk to be scheduled late in the voyage, in the hope that the publication process might be completed by that time, and that I might have some copies of the book available to sign. Unfortunately, the book still had not reached that stage. So I just read some excerpts. Fortunately, before departure, I'd had the foresight to have business cards printed with the name of the book and the URL of my website. I passed out these cards after my talk.
At least 150 people attended my presentation. It was a big hit. I got a round of applause after telling the tale of my successful struggle to get unemployment benefits during the summer after my first year teaching part-time at the Community College of Southern Nevada and the University of Nevada, Las Vegas. I got lots of laughs in response to various stories, such as the one about a student who wore blue nail polish every day to class (his job was dressing up as an extraterrestrial at the Star Trek Experience) and the one about the student who'd had the best excuse for copying the paper of a another student who had taken my class the previous semester (she didn't copy—she'd actually written the other student's paper). The biggest hit was my story about the student who had worked as a stripper. (I made sure to ask whether there were any children in the audience before telling this one.)
The stripper story had been my finale. After I was done, someone shouted," What happened to Beth?" Beth had played a big role in some of the earlier stories I'd told.
I responded, "I married her."
Unfortunately, some people did not hear the question—only the response. I've been spending lots of time squelching rumors that I married the stripper.

You may navigate the Semester At Sea section using the arrows.