LEE'S NEW BOOK
Teaching Amidst the
Neon Palm Trees
An exciting true story



Intrigue and Corruption
in Las Vegas.
Click Here

Months went by, and I never heard anything from Semester at Sea. I figured that they just were not interested in hiring me, and I put it out of my mind.
In fall 2000 I got a job teaching political science at Cypress College, south of Los Angeles. I taught there for three semesters. At the end of 2001, my wife, Beth, had a job opportunity in Modesto, California, over three hundred miles north of Los Angeles. After a great deal of deliberation, we decided that Beth would accept the job, I would resign my position at Cypress, and we would move to Modesto together.
In January 2002 we packed for our move to northern California. Just a couple of days before we left, the phone rang. It was Dean Peter Koehler from Semester at Sea. What a surprise! Two years had gone by since I had submitted my application. Dean Koehler offered me the opportunity to teach on the spring 2003 voyage. I was delighted.
The timing could not have been better. I had no professional responsibilities, and therefore did not need to apply for a sabbatical. I talked it over with Beth, and she encouraged me to go. That decision set in motion the most fantastic voyage of my life.
During my semester at sea I kept a journal of my experiences. I have included some of the most interesting entries below, as well as some of the commentaries that I wrote for Stanislaus Connections, a Modesto-area newspaper.
Journal entry, January 22, 2003 © 2005 Lee Ryan Miller, LeeRyanMiller.com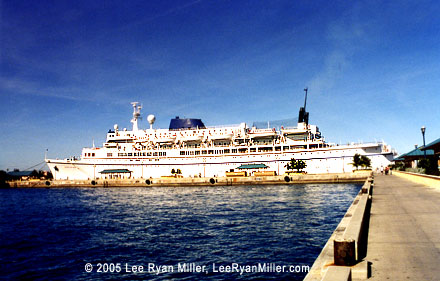 S.S. Universe Explorer, just before departure. Nassau, Bahamas
I flew to Florida on January 11. I spent several days visiting family before embarking on my voyage. I had a nice visit with my mother, stepfather, brother, and grandfather. Five days ago I boarded the SS Universe Explorer. It was a grueling experience. Mom and Bill drove me down to the port of Miami. But the security wouldn't let them help carry my stuff aboard. I had to make 4 trips on my own. They were long trips (about the length of two ships). Somehow I got all my stuff aboard. My back was very sore afterwards.
Since boarding, I've spent most of my time in meetings. I haven't even had the chance to explore the ship. We sailed to Nassau, where we picked up the students yesterday. We set sail for Havana last night.
Three-fourth of the students are female. The male students must think that they've died and gone to heaven. A group of them held up a homemade sign as the ship sailed away from the dock in Nassau. It read, "Parents, thank you for your daughters!"
I'm really busy trying to prepare for my classes. I usually do that before the semester begins. But I was just too busy with moving into the new house and working on my books before I left California.
This evening I got a few salsa dancing lessons starting at 2130. I danced with four students. Returned to my cabin, showered, and in bed by 2300. I'm looking forward to finally meeting Ransel tomorrow morning.
You may navigate the Semester At Sea section using the arrows.