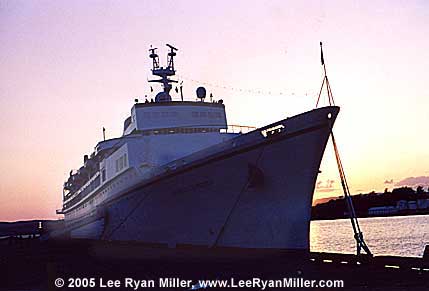 The final sunset on our voyage, just before departure
from Victoria, British Columbia.
Excerpt from a journal entry dated May 2, 2003
I've been thinking about how my experiences on SAS will affect my life. I think that the effect will be subtle. I have lived abroad before, and I don't think that the impact this time will be as dramatic. But I do think that it has helped me to gain perspective on life. Whenever I face a problem in the years to come, I am going to try to remember the deprivations of the poor in India. I think that whatever problems I face will pale in comparison. I hope I never forget this lesson.



Excerpt from a journal entry dated May 6, 2003
This will be my last entry in this journal. This morning I disembarked from the SS Universe Explorer.
I was both happy and sad. I was happy to get home and see Beth after so much time away. But I was also sad that I would be leaving behind the community that had been my home for the past four months. This community has ceased to exist, except in the memories of those who lived there
LEE'S NEW BOOK
Teaching Amidst the
Neon Palm Trees
An exciting true story
of
Intrigue and Corruption
in Las Vegas.
Click Here

So many things to remember! Some of the more unpleasant things were the hectic schedule, the bad food, and how difficult it was to work out in a cramped gym on a rocking ship. I will certainly remember the seasickness and exhaustion.
I also have lots of pleasant memories. I remember listening to the creaking of the ship each night as I lay in my bed, thinking to myself about the fish and whales swimming below me. I also remember the camaraderie of the members of my community as we surmounted countless obstacles over the course of a fascinating voyage. I will miss this greatly.