LEE'S NEW BOOK
Teaching Amidst the
Neon Palm Trees
An exciting true story



Intrigue and Corruption
in Las Vegas.
Click Here

I had a similar experience with the Japan Travel Bureau (JTB), when I tried to make reservations for an overnight trip a few days later. The travel agent spoke perfect English. But it still took her an hour and a half to arrange for a local bus trip to the port, a ferry crossing, a hotel reservation, and another bus the next day. In all, I spent nearly 3 hours in the JTB office; she'd had to help one other person ahead of me with a very similar request.
Anyway, I spent much of my first day in Nagasaki changing money. I also spent over an hour trying to locate an Internet café. (In desperation, I went to the Prefecture office, and a nice guy named Yoshi helped me. He actually walked me to the cable car station and made sure that I got on the right one.) I also had lunch with a group of students in an izakaya (Japanese pub). (One of the students made the mistake of sticking her chop sticks in her rice so that they stood up. This is considered very rude, and I whispered this to her.)
I also visited a beautiful Confucian shrine. It had wonderful red gates and dragons on its roof. The land it was built on actually belongs to the Chinese embassy, so I guess I got to visit China after all. Behind the shrine is a great museum that has exhibits on loan from the Chinese National Museum and the Imperial Palace museum. Everything from terra cotta warriors to Ming vases to golden boxes. Great stuff.
After the museum, I ran into Marci and Jim. Marci is one of the counselors on the ship and Jim is her husband. We had a snack at a local restaurant. It was a cheap local dive. Nothing fancy. A bowl of udon cost me 400 yen (less than $4). They thought it was great.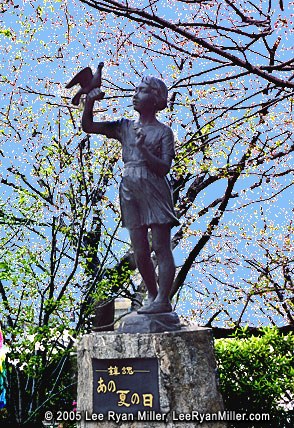 A monument to the victims of the
atomic bomb blast, Nagasaki, Japan.
Later that evening I went out to dinner with George (assistant dean), Janna (registrar), and Mandy (head counselor). We went to Shianbashi, an area with lots of restaurants and nightclubs. They had suggested sushi. I inquired in broken Japanese at one place whether they served sushi. The man there said no, and proceeded to put on his shoes to take us to a place that had sushi. I was surprised by this gesture. I asked what sort of food they served. He said sashimi and tempura. Despite the lack of sushi, we decided to stay there. The restaurant was beautiful. It was decorated in traditional Japanese fashion. Tatami mats, lots of wood, some fresh cherry blossoms, some stalks of wheat. Very simple, yet elegant. The Japanese aesthetic is "less is more." Dinner and drinks for four cost only about $15 person, which was a pleasant surprise. Japan tends to be quite expensive.
Afterwards, George and I went to an izakaya. I had one beer. George had five, I think. He has a much higher tolerance for alcohol than I do. Students trickled in one or two at a time until the place was packed with SAS students. Everyone who walked in was surprised that other SAS people were there. There just were so many of us, that it was hard not to run into tons of other SAS people. In fact, this was the case everywhere in Nagasaki, as well as in the other places I visited in Kyushu.
The following day I went with Chad and Cadie to visit the atomic bomb-related sites. (Chad and Cadie work in the bookstore.) It was a very emotional experience, both positive and negative. I was saddened by the death and destruction wrought by the bomb, but heartened by all the sites and monuments dedicated to hopes for peace.
The first site we visited was that of an elementary school destroyed in the bombing. They have rebuilt the school, and there were kids there that day. I saw them and thought about how hundreds of kids like them had been incinerated instantaneously one day half a century ago. Very sobering. Behind the school are located the original bomb shelters. The bomb exploded too quickly after the air raid sirens went off, and very few made it inside in time. A sign described how one teacher got inside just in time as the blast knocked him flat. The person just behind him was killed. It's almost beyond my comprehension.
I had similar experiences at the other sites, such as the site of the cathedral, the prison, a stream where kids had been swimming, etc. The former prison site was made into a Peace Park. It is dominated by a huge statue of a man sitting with one arm stretched up to heaven and another stretched out in a gesture of peace. There are lots of other beautiful statues donated by governments throughout the world. Cherry blossoms were in bloom, and it was lovely.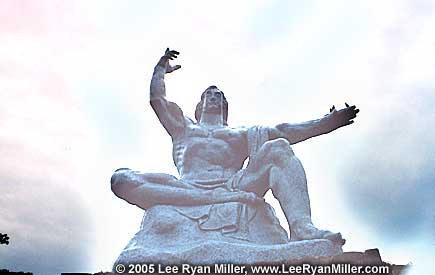 A monument to the victims of the atomic bomb blast,
Nagasaki, Japan.
The museum was very thought provoking as well. There were tons of artifacts, like melted coins and pictures of burned bodies, plus exhibits on the nuclear arms race.
I also saw the one-legged torii. It was the remains of the gate of a Shinto Shrine. Half of the gate had been destroyed. It was sort of macabre, seeing just half of it standing there.
Nagasaki has a very interesting history. It was the only place in Japan during the feudal era—1600s to 1800s, when the Shoguns ruled—where foreigners had been permitted. At first the Portuguese had been allowed to live there—at least until they started converting lots of people to Christianity. The Shogun kicked out the Portuguese and killed most of the Christians. After that, only a small Dutch and a small Chinese settlement were allowed. These foreigners were kept mostly isolated from the local population. They were tolerated only for trade purposes. Japan actually banned firearms during this period because they represented a threat to the status quo. No technological progress occurred over these centuries, and Japan remained in a feudal state like medieval Europe.
This all changed when Commodore Perry arrived in the late 1800s and ordered Japan to open to the outside world. Technology had advanced in the intervening centuries outside Japan, and the Japanese realized how far they had fallen behind. Over a period of 40 years or so they jumped from medieval to modern. It's an extraordinary story. Nagasaki was in the forefront of this transformation. It had a large foreign community, and was a major trading center. Thus, the section of the city near the port where the foreigners lived in the late 19th and early 20th centuries had beautiful Victorian architecture.
Near the one-legged torii, I found the cemetery where the foreigners were buried. There was even a Jewish section with Hebrew on the tombstones.
On the following day, April 3, I went on a trip. I took a bus to Kumamoto. Nagasaki is located on the ocean side of a large peninsula, while Kumamoto is across the water from the mainland side of the peninsula. The bus traveled up the peninsula and around the far side of the bay. It took about 3 hours. It was a beautiful drive, especially given all the sakura (cherry blossoms). We were quite fortunate to have arrived when we did. The cherry blossoms usually don't last more than a week or so. They were there for the duration of our visit.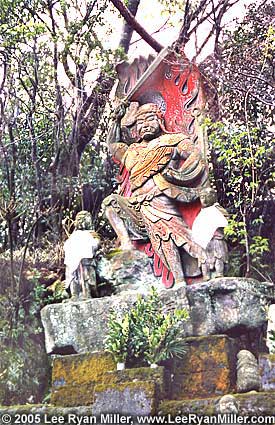 I came across this statue while walking
in the woods in Unzen, Japan.
Kumamoto is a large modern city. I was there to see the castle. There is an enormous castle in the center of the city dating from the 1600s. It has huge walls made of differently shaped rocks all fitted together. The walls slope inward a bit and get steeper as you approach the top. They are covered with green moss, making them quite beautiful. The grounds outside and between the walls were lovely. There was a moat filled with water, and the cherry blossoms and azaleas were in bloom. Lots of red and pink flowers everywhere.
The castle itself consisted of several towers. The towers had multiple stories, with each subsequent level smaller than the previous one, like a wedding cake. But each story had the typical Japanese tile roofs with the corners curving upward. The towers were made of wood, and most had been rebuilt in the 1960s and 1970s. Most of the originals had been destroyed in an uprising by samurai in the late 1800s. After Commodore Perry's visit, modernizers overthrew the Shogun, disbanded the Daimyo (nobility) and samurai (warrior class) and embarked on a crash modernization program. The samurai revolted, and were mostly mowed down with modern firearms. One of their last strongholds was Kumamoto Castle.
Unfortunately, I only had a bit over an hour to explore this enormous castle. My visit to JTB took up too much time. I caught the bus to the port, took a ferry across the bay to Shimabara, and stayed in a hotel for the night.
Shimabara is a small city. I didn't see much of it. My hotel was near the port. It was a businessman's hotel, meaning that it was just a no-frills place. It smelled smoky, but it was clean and safe. It only cost about 7000 yen ($65), including breakfast.
Japanese pretty much eat the same thing for all meals. They don't usually eat special foods for breakfast like Americans do. My breakfast consisted of rice, fish, salad, miso soup, some boiled vegetables, pickled vegetables and (the only "breakfast foods") a strawberry and some sliced bananas. I washed it down with some green tea. Then I caught the bus to Unzen. It was pouring rain, and I got wet.
Unzen is a resort town in the mountains in the center of the peninsula. It is known for hot springs. The drive was beautiful. We followed a winding mountain road through the forest.
It was cloudy in Unzen that day, and it drizzled on and off. The wind was cold and strong. I had hoped to take the aerial tram to the top of Mt. Fugen to see the view and look down on the lava flows from the volcano. But I was informed that it was quite foggy, and that I would not be able to see anything. I'd also hoped to hike around the mountain top, but given the weather, I contented myself to walk around the bubbling, steaming hot springs in town. The air was sulfurous, but it was sort of interesting. At least it was not so cold with all the steam. It was sort of like Yellowstone, only no geysers.
I tried walking around the parts of town without the steaming pools for a bit, but the day got colder and wetter and I gave up. I decided to take an early bus home. I went to one of the local baths to soak and warm up before leaving. This was an interesting experience.
I put 100 yen into a ticket machine, and then handed the ticket to an old woman. I had not brought a towel, so I bought a tiny, thin towel from her for 150 yen. I entered the locker room. The old woman could see into the room if she wished, but she did not stare. I took off all my clothes, put them in a wooden locker, and opened the sliding door into the bathroom.
There was a round, steaming pool, perhaps eight feet in diameter, in the center of the room. Hot water from one of the hot springs was constantly flowing into the pool from a metal pipe, making the pool overflow. The water flowed down a groove in the floor into a drain.
In Japan, baths are for soaking, not for washing. You wash before entering the bath. In the bathroom there were stacks of low plastic stools and shallow plastic buckets. I filled up a bucket with water from the pool and sat down on a plastic stool some distance from the pool. I soaped up. Then I rinsed off, using the water from the bucket. I got some more water to rinse a second time. Then I waded gingerly into the pool. It was extremely hot.
There was a ledge inside the perimeter of the pool. I sat on this ledge, and the water reached up almost to my throat. A few minutes later a young Japanese man also entered the water. He spoke some English, and we struck up a conversation. The water was so hot that I stayed in the pool for only ten minutes or so. The young man, Nori, showed me how his skin had turned red from the hot water. My skin did not change color, but I was plenty hot. I dried off with my tiny towel. He got out and splashed some cold water from tap onto him, and then got in for another few minutes. I just put my clothes on.
I reorganized my stuff in my backpack, and by the time I had finished, Nori had gotten out and dressed as well. He asked to take a picture with me. I said he could, and we got the old lady to do it. I got her to take a picture of us with my camera as well.
I invited Nori to go out for a beer. He declined, because he had to drive. So we went out to a restaurant for some hot drinks. I had some tea; he had some coffee. I had 90 minutes until my bus was scheduled to depart, so we chatted for a while. He turned out to be a student studying chemical engineering at Nagasaki University. He had ridden his motorcycle all this way to Unzen in the rain. He had eaten lunch, taken the bath, and was planning to head back to Nagasaki. Nice guy.
We said goodbye and I caught my bus back to Nagasaki. There were around a dozen SAS people on board, and no one else. At one point a very drunk man got on. He flirted with the young women for a few minutes, and then got off. Otherwise, we had the bus to ourselves. The trip was beautiful. We saw lots more cherry blossoms, plus mountains, forests, and lovely coastline.
I went out for dinner with Chad and Cadie. We went to a sushi restaurant in which the dishes came out on a conveyer belt and you grabbed whatever interested you. You were charged by the number of empty plates. After trying quite a few dishes, I decided that I still don't enjoy eating raw fish. I just don't like the slimy texture. The taste was okay, though—except for the uni (sea urchin). That one I didn't like at all.
Nevertheless, it was an interesting experience, since we could watch the chefs making the sushi. We got the freshest stuff, because we could see when they put something new on the conveyer belt. We usually made it a point to grab those dishes.
That night I tried a new Internet café. The one I'd gone to on the first day was closed at night. I located one in Shianbashi on my tourist guide map. It was called Cybac, short for the Japanese pronunciation of "cyber café." You had to pay a membership fee of 480 yen (about $4.50). Then they charged you 90 yen per 15 minutes. But this was well worth the price. Even at around $8 for an hour, it was a lot cheaper than Internet access on the ship (50 cents per minute).
It was a fascinating place. Not only could you access the Internet, but they also had a video library, a comic book library, computer games, a video arcade, pool tables, a full bar, massage chairs, a foot spa, an oxygen room, and a host of other things. You had to pay for alcohol, but just about everything else was included in the fee, including soft drinks. After I finished my e-mail, I played a bunch of video games. I ran into someone from SAS, and we tried out the massage chairs, oxygen room, and foot spa. Quite a place. Didn't get to bed until 0300 hours.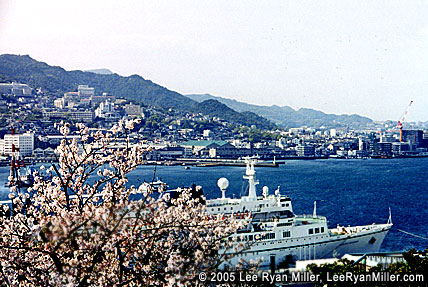 A view of the SS Universe Explorer a few hours before its
departure from Nagasaki harbor.
I never seem to be able to sleep beyond 0700 or 0800, no matter how late I stay up. Today was no exception. I got up before 8:00, had breakfast, and went out for my last day of sightseeing. I visited a bunch of Shinto shrines and Buddhist temples and checked my e-mail again. (Cybac is located near the temples). Then I visited Glover Gardens, which was located in the area of the city where the westerners used to live. I boarded the ship just ten minutes before "on ship time." Had I been late, I would have received "dock time." Dock time is when you have to stay on the ship after arrival in port as punishment. I have never received dock time, but I was told that you get 1 hour of dock time for every ten minutes you are late.
This evening Ed, the executive dean, called a meeting. He announced that many parents had called Pittsburgh to protest the decision to return home 6 days early, demanding that we visit another port. So SAS had decided that we would stop for a couple of days in Seward, Alaska, and another couple of days in Victoria, British Columbia (Canada). I think I'm going to have to buy some warmer clothes in Korea.
Tomorrow is Korea Day.

We will have lectures from 9:00 to 5:00 on Korea.

Usually we have several days between ports to prepare.

But we will have only 1 day between Nagasaki and Pusan.

You may navigate the Semester At Sea section using the arrows.