LEE'S NEW BOOK
Teaching Amidst the
Neon Palm Trees
An exciting true story



Intrigue and Corruption
in Las Vegas.
Click Here

Next we stopped at the Jagalchi fish market. This was a huge outdoor market where fresh seafood was sold. The driver got into a shouting match with a uniformed man on the sidewalk as he attempted to park the bus near the market. As we exited the bus, the two men got into a shoving match, then a fistfight. Jim Berry, a business professor, broke it up. It turns out that our tour bus driver had parked the bus at a public bus stop, against the orders of the official. The driver had been itching for a fight, it seems, and Jim had to do a lot of convincing to keep the guy on the bus, rather than jumping out again to hit the guy. I've noticed that Koreans seem to have fiery tempers. Perhaps it is from all the spicy kimchee they eat. I don't know.
I decided to leave the tour, rather than take the bus back to the ship. I had lunch at a buffet restaurant suggested by the tour guide. I had a nice lunch, and ran into Sheila, my next-door neighbor, and Lousie, the assistant librarian. We left Sheila at a salon to get a pedicure, while Louise and I went shopping.
I needed some warm clothes for Alaska. All I had brought with me was a light jacket and some sweatshirts. Near the fish market was a market selling all sorts of things, including clothing. Louise and I explored the area. Unfortunately, April is a bad time to shop for winter clothes in Pusan. We mostly saw spring and summer clothes. But I was able to find a very inexpensive backpack to replace my fraying one, as well as a nice designer knock-off handbag for Beth. Louise helped me pick out the latter.
After we met Sheila – toenails freshly painted – we headed toward the subway station. I had read that there was more shopping underground between the stops. It started to rain, and was getting quite cold. I bought an umbrella, since I had left mine back on the ship. It cost less than $5.
In the underground shopping area in the subway, I bought a suede coat. I had hoped to find something more like a ski jacket, but this was the only warm jacket that I could find. My companions liked it, and I got several compliments after I returned to the ship. So I guess it was a good choice. It cost me only about $50. I also bought a new pair of black shoes, again for about $50. Afterwards, the three of us took a taxi back to the ship.
The next day I was scheduled to take a day trip to Gyeongju, an ancient capital of Korea during the period of the Shilla dynasty, some 1300 years ago. We visited the burial mounds of the ancient kings. We also went to a museum containing artifacts from some of the excavated tombs, plus ancient artwork. There were thousands of school kids at the museum. Our tour guide explained that most kids in South Korea visit this museum at least twice on school field trips. The kids went around asking us to sign pieces of paper or notebooks. It was pretty strange signing autographs for dozens of Korean school kids. But the kids seemed happy. I think that they were competing to see who could get the most signatures.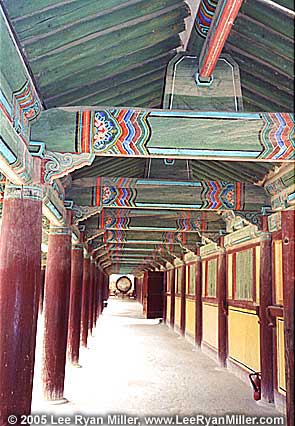 The exterior of a Buddhist temple in
South Korea.
We also visited a beautiful temple. Korean Buddhist temples are sort of like Japanese ones, only they are a bit more rustic in design. After a great buffet lunch, we visited a collection of shops selling traditional Korean arts and crafts. A potter demonstrated and explained how celedon pottery is made. This pottery is traditionally pale green with inlaid designs. I bought a couple of pieces.
That evening, after we returned, I checked my e-mail at an Internet café before going to bed.
On the next day, I participated in an organized trip to Andong, a rural area. This trip was rather disappointing. We were gone for some 13 hours, and we spent most of that time on the bus. We had a nice traditional Korean lunch. We visited a traditional wooden house where a rich Korean family lived hundreds of years ago. We also visited Bongjeongsa Temple, an ancient wooden temple. In addition, we visited Hahoe Mask village, a traditional Korean village known for its wooden masks. This place was very pretty. The wooden structures were preserved from the 16th century and there were no modern structures there. These places were all quite beautiful. But I would have preferred going just to the mask village, perhaps, rather than spending the whole day driving around. We stopped for only about an hour at the mask village and the temple. The traditional house warranted only a half-hour stop. We spent the vast majority of our time traveling the long distances between these destinations. And the guide did not do very much interpretation of the sites we visited.
I did notice one very interesting thing about development in Korea. I noticed clusters of high-rise condos and apartments bordered by rice fields. There just did not seem to be the sort of urban sprawl common to the US. I asked the guide about this. He said that they have very strict zoning laws in Korea enforced by the national government. Large areas of land are preserved as farmland, and the law encourages the development of high-rises to conserve space. I think this is great. Much better than developing prime farmland into one- and two-story single-family houses, as has been the trend in California.
On my next day I got a late start. I was busy scheduling a visit to a US army base. Upon arrival in each port, we usually receive a mandatory briefing by US diplomats on the country we are visiting. Originally, I had scheduled a follow-up briefing by US diplomats to follow the mandatory briefing. The diplomats were supposed to discuss in detail security issues on the Korean peninsula and elsewhere in NE Asia. But the diplomats cancelled at the last minute for reasons unknown. We had no regular or follow-up briefing in Pusan, unlike other ports.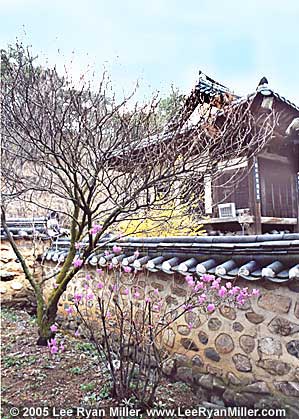 A house in the Hahoe Mask village, a
beautifully-preserved town in South
Korea that dates from the 16th century.
My students are required to prepare 3 reports on field (in port) activities related to their course. I was concerned about the number of opportunities for such activities related to my World Politics (international relations course), after the itinerary changes and the cancellation of the follow-up briefing. So I decided to try to schedule a visit to a US military base in South Korea.
I contacted an Air Force base on the Internet, and they referred me to someone in the office responsible for all US military bases in South Korea. This person, in turn, sent out e-mails to a list of base commanders. It took several days, but eventually the commander of a small US Army base in Pusan e-mailed me an invitation. I spent the morning of my second-to-last day making the arrangements.
That afternoon I went to a huge park on a hill overlooking Pusan. I went with Chad and Cadie, plus Ryan, the staff audio-visual technician. We visited a botanical garden and took the aerial tram up to the ruins of a fortress high above the city. There were great views. When I returned that evening, I noticed that 59 people had signed up for the 30 slots on the trip to the Army base.
The next morning a bus picked us up for the trip to the base. I was disappointed that despite the many sign-ups, only 22 people actually showed up at the bus.
We drove to Camp Hialeah, in the center of downtown Pusan. It was a funny location. It looked like an oasis of green lawns and one- and two-story buildings in the middle of high-rise buildings. Apparently, it had been a race-track during the era of Japanese occupation that began in 1910. During World War II, the Japanese made it into a military base. When the US replaced the Japanese after World War II, they named it Camp Hialeah after a racetrack in Florida.
It was a very small base, with only about 450 soldiers. It was responsible for defending the port, and was supposed to serve as a staging area for personnel and equipment moving around in the event of war. The commander, Lt. Colonel Ludwig, gave us a briefing on the mission of the base. We had lunch in the restaurant on the base. Standard American fare: hamburgers, pizza, etc. We returned to the ship in mid-afternoon.
I checked my e-mail one last time at an Internet café before we set sail that night.

You may navigate the Semester At Sea section using the arrows.