Appearances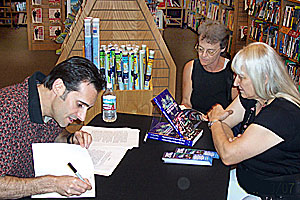 Lee signs a copy of his book for April Hejka-Ekins at the Borders bookstore in Turlock, California August 7, 2004.
Lee Ryan Miller has done book signing events at numerous bookstores in California, Nevada, Hawaii, and Florida.

He has been a featured speaker at many colleges and universities, including Santa Monica College (California); the University of Nevada, Las Vegas; Florida Atlantic University; Brandeis University; and California State University, Stanislaus.

Lee plans to do a number of interviews, talks, and book signing events over the coming months.

To schedule an appearance, please contact Lee at (209)380-1776.

LEE'S NEW BOOK
Teaching Amidst the
Neon Palm Trees
An exciting true story



Intrigue and Corruption
in Las Vegas.
Click Here