LEE'S NEW BOOK
Teaching Amidst the
Neon Palm Trees
An exciting true story



Intrigue and Corruption
in Las Vegas.
Click Here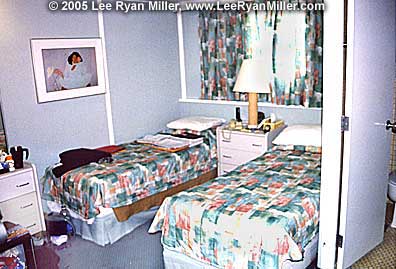 Lee's cabin during his four-month voyage
on the SS Universe Explorer.
But before I go into more dimensions and furniture, I suppose I should describe the décor. The walls are covered with textured vinyl wallpaper. It is a pale green color. Looks rather nice. In the middle of each wall is a white stripe—wood, I think—perhaps two inches wide, running from floor to ceiling. The floor is covered with a turquoise carpet with a pattern of small green and pink shapes that rather remind me of shelled pecans. The ceiling is composed of square metal panels, perhaps five feet long, painted white. There are two fixtures composed of fluorescent tubes with plastic covers – perhaps two feet wide—mounted on the ceiling. One lies above the desk, another above one of two dressers.

As you enter the room, if you turn to the right, you face the entrance to the bathroom. Along the way, on your right, you will pass the closets. There are two. They are narrow, and each contains several hangers and a shelf. I don't have a lot of clothing to hang up, so I use them mostly for storage.

Inside the door of the second closet I have hung up one of those plastic sheets with pockets for shoes. Someone had suggested I get one of those for this voyage. It comes in handy for all sorts of things besides shoes. Its numerous pockets can hold all sorts of items that otherwise might go into drawers or cabinets: vitamins, medicines, toiletries, etc.

The bathroom is very small. It has a small sink and medicine cabinet to the right, as you enter. Just beyond the sink on the right lies a neo-angle shower. It is considerably smaller than the one at my house. I don't imagine that more than one person could possibly fit inside. I have hung a shower caddy over the shower head to hold my shampoo, soap ,etc. The shower stall is enclosed by a gray vinyl shower curtain. To the left of the shower (or straight ahead as you enter the bathroom) lies the toilet. The walls and floor of the bathroom (including the shower) are covered with tiles, a sort of cream color with a yellowish tint; the grout is the color of brown mustard. The wall tiles are square, perhaps 2 inch diameter, while the floor tiles are one-inch wide hexagons.
My bed is against the wall separating the bedroom from the bathroom. As I lie in bed I face the desk and can look into the mirror that lies above it. There is a second bed to the right of where I lie. It sits parallel to my bed along the wall separating my cabin from the next cabin. In between the two beds is a dresser with a lamp bolted atop it. Sometimes the lampshade vibrates as the ship moves. The ceiling always creaks as the ship rocks. One gets used to it after a while.

There is a second dresser at the foot of the spare bed. Atop it is bolted a small TV set. Each dresser is covered with a cream colored plastic, and each contains three drawers. I have filled them up with clothes and miscellaneous items.

Against the wall beyond the foot of my bed I have set up my printer (atop the box it came in), and a plastic 3-drawer cabinet containing office supplies. I keep my laptop computer in the single drawer of the desk. This drawer is just large enough to house my laptop. It is a good place to store it. If I were to leave the computer atop the desk, there's a chance it might fall due to the rocking of the ship. Leaving it on the floor is not a good idea, since there is a chance that there will be flooding in a storm.

That's what my cabin looks like.

Days aboard ship follow a certain routine. Meals occur at regular intervals: breakfast 0700–0830, lunch 1200–1330, dinner 1800–1930. Notice that I use 24-hour time. We do not use a.m. or p.m. aboard ship.

I teach 3 classes. They meet either on A days or B days. Days of the week and days of the month are irrelevant aboard the SS Universe Explorer. One teaches all days while the ship is at sea—except for a few days reserved for special activities. Weekends do not exist. Global Studies, commonly referred to as Core, occurs at 0920–1035 each day. All faculty and staff are supposed to attend this class along with the students. It focuses on the history, culture, geography, politics, etc. of the countries on our itinerary. It is held in the Union, a large lounge in the middle of the ship. Given that there are over 700 students, faculty, and staff on the ship, it gets rather crowded. Core is broadcast on closed circuit TV to the overflow crowd in two classrooms just off the Union. I usually attend Core in one of these classrooms, since it is easier to get a seat there.

On A days, I have a break between Core and my class, the Politics of Global Inequality, which meets 1255–1410. I have a special pass so that I can go to the front of the lunch line on those days (the wait otherwise can be quite long). I have around thirty students in the class. I am teaching them about the gap between rich and poor countries, and the gap between rich and poor within countries. It is the first time I have taught such a course. That makes preparation more time-consuming. But the subject permits me to use my doctoral dissertation for the first time in a class. I am in the midst of having it published under the title of Democratic Efficiency. I had the manuscript copied and bound for the students. In addition, we're using the United Nations Human Development Report and a collection of articles from the Economist magazine that I have selected.

I have to get up early on B days. I teach East Asia in World Politics 0800–0915. We're going to spend a lot of time in East Asia on this voyage. But the class is small—perhaps a dozen students. I think the low enrollment reflects the early hour.
My other class, World Politics, also falls in B days, 1415–1530. It is an introductory international relations course. In addition to articles and textbooks, I am having students read selections from my forthcoming book, Confessions of a Recovering Realist.
Excerpt from a journal entry dated May 6, 2003

There were lots of memorable people I met on the ship. There was Francis, my Filipino cabin steward, who always greeted me with a smile, despite working 12 hours per day, 7 days per week.

Sheila Schwarz was my next-door neighbor. She was well over 70, had a bad knee, and came down with pneumonia by Pusan. Despite all this, she had remarkable drive, always eager to explore the world, although she often pushed herself beyond her limits. She is the author of many novels, and is a retired professor of writing from the State University of New York at New Paltz.

Just beyond Sheila was the cabin of Brandon Som. The youngest member of the faculty, Brandon had just completed his Masters in English at the University of Pittsburgh when he was asked to take the place of an instructor who had fallen sick. Brandon seemed to feel overwhelmed by the responsibility of SAS; he was always locked in his cabin working.

On my other side was Lynda Nyce. Lynda was a soft-spoken professor of Sociology. She was always very kind, and sent me a cookie for Valentine's Day to cheer me up, given my absence from Beth. But Linda was also rather aloof. I never felt that I really got to know her.

On the other side of Lynda was the cabin of Donna LeFebvre, political science professor. She spoke with a southern accent. Seemed nice enough, but I never got to know her very well. She kept to herself and didn't socialize much.

Beyond Linda lived Dan Jacoby and his wife Nancy. Dan was an economics professor, pretty left-wing. He was normally bald on top, but got rid of the rest of his hair on Neptune Day, along with Jim Berry and me. They had a cute 8-year-old daughter Coriana, who lived across the hall with another little girl. They were from Washington state.

Beyond Dan and Nancy lived Brian Meunier and his wife Perky. Brian was a sculptor and taught art history aboard ship. Perky was a painter. They were a very nice couple with two girls, Lela and Marina. Recently they'd had their first children's book published. Perky had done the illustrations.

There were lots of other interesting people who lived in places other than my hallway. There was Dick and Mary Sapp. They were from Washington. Dick taught business and accounting. They were always quite kind to me. Mary helped to produce a beautiful quilt, utilizing fabric from each of the countries we visited. It was auctioned off at the end of the voyage, raising a great deal of money for Students of Service, a student group that donates money and supplies to charities in the countries that SAS visits.

There was Steve Crosby, and his wife Luanne. Steve was an actor and director, and taught theater. They each were divorced and remarried, with one child from each former marriage, and one by each other. Their three kids were Lea, Nicholas, and little Jesse. Lea and Nicholas were always reading. Jesse, who was perhaps five years old, could often be found wandering the hallways looking for dinosaurs. He also was a genius when it comes to geography. If you gave him the name of a country (any country—I tried) he could find it without difficulty on a world map.

There was also David Mould, and his wife Stephanie. David was an Englishman, with a wonderful dry sense of humor, making him a very amusing person with whom to converse. He taught communications. Stephanie was very warm-hearted, and seemed genuinely interested in trying to help me find a job if I'd be willing to move to Ohio. She worked with Mary Sapp and a few other women on the quilt.

There was also James Brown, a white-haired philosophy professor. He mentioned to me that California State University, Stanislaus, where I teach, was built on his grandfather's old farm.

And there was also Kevin Murphy, an extremely eloquent history professor. We did not speak often, but our conversations were always fascinating.

I should not forget George Williams, and his wife Zizi. George was a religious studies professor from Cal State Chico. He was a very kind man. Zizi was from Transylvania, an ethnic Hungarian region of Romania. Her father was a Unitarian minister who was imprisoned and tortured under the Communists. I was surprised to learn that Unitarianism originated in Transylvania. After Zizi escaped to the US and met George, she started a program in which Unitarian churches in the US adopted churches in Transylvania. Zizi played the violin beautifully. She had an extremely dramatic way of speaking that made the most mundane aspects of life sound like extraordinary phenomena.

There was also Jerry, the voyage videographer. It amused me that whenever I found him talking with women, he always seemed to mention that he considered himself to be a feminist.

There was also Louise, the librarian. She was a champion Scrabble player. She also was a champion conversationalist. She never seemed to stop talking, even while she was working in the library.

Excerpt from my journal, February 2, 2003

Last night there was a party, and although I was asleep by 0030, many students stayed up for most of the night. (Fortunately, I live on a deck inhabited only by faculty, staff, and their families, so I was able to get some sleep.)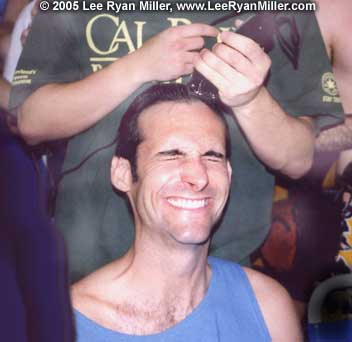 Lee gets his head shaved during Neptune Day
At 0900, the entire shipboard community was awakened by sirens and music. Loudspeakers ordered everyone to assemble by the pool. Today we got a break from classes. It was Neptune Day, a celebration of our crossing the equator. There was a carnival atmosphere. Faculty and staff members were dressed as King Neptune and his court. We were invited to participate in the initiation rites from "pollywog" to "shellback" in commemoration of our first crossing of the equator.

At the edge of the pool, each person was drenched with a bucket of "fish guts" (actually water with clumps of flour, I think, although it was quite smelly). As each person climbed down the ladder into the pool, which was filled only to about waist-height, s/he was drenched with a fire hose. You then walked across the pool (water sloshing wildly about) with the aid of a rope strung from one end to the other. You then got sprayed with another fire hose, before ascending the stairs on the other side. Upon emerging from the pool, you were asked to kiss one of two large fish. (I hammed it up, exclaiming how I searched the seven seas for my lost love Sally, and at last I'd found her. ) After kissing the fish, you knelt before King Neptune—a shirtless business professor Jim Barry, gaily painted with many colors—and kissed his ring. Then you knelt before a staff member who touched your shoulder with a sword and pronounced that you were now officially a shellback. 

It was quite a spectacle. But there was more to come. The previous evening they had sold raffle tickets. The five winners got their heads shaved by the captain. Four lovely young women and one young man won this honor. A hundred or so others got their heads shaved by student volunteers.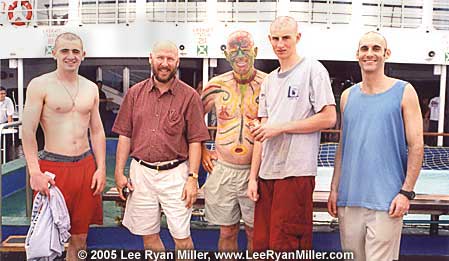 Both students and professors got their heads shaved
on Neptune Day: Tim O'Malley, Dan Jacoby,
Jim Barry (King Neptune), Nate Barry, Lee Ryan Miller
I was not planning to take part in this second rite. But two other male faculty members ("King Neptune" and economics professor Dan Jacoby) declared to me their intention to take part. I remembered my wife Beth telling me that she liked the shape of my head, and that I'd look good bald. So I agreed to join my colleagues and have my head shaved.

There were four chairs, and the three of us were shorn simultaneously. The student who shaved my head mischievously left behind my sideburns. They looked rather silly below a bald scalp. I left them on through lunch, and shaved them off after working out in the afternoon.

Dean Peter Koehler commented wryly when he saw me that he knows now who to call upon when he needs someone with a cool head. The students just said that I was cool.

You may navigate the Semester At Sea section using the arrows.