DEMOCRATIC EFFICIENCY
INEQUALITY, REPRESENTATION, AND PUBLIC
POLICY OUTPUTS IN THE UNITED STATES AND WORLDWIDE
ISBN: 1-4184-0162-5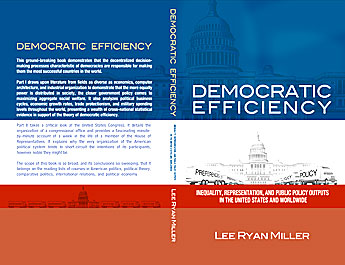 Democratic theory is advanced dramatically by this new book. It draws together diverse literature from democratic theory, political economy, and international relations theory to demonstrate that democracy is a more efficient form of government than dictatorship.
It draws upon the work of dozens of political scientists and economists, including Robert J. Barro, Gary S. Becker, Robert A. Dahl, Michael W. Doyle, Samuel P. Huntington, David A. Lake, Mancur Olson, Charles Tilly, and Oliver Williamson, to demonstrate that the more equal the distribution of power in society, the closer government policy comes to maximizing aggregate social welfare.
Read more about this path breaking new political science book.
LEE'S NEW BOOK

Teaching Amidst the
Neon Palm Trees



Click Here.
"A SHOCKING INDICTMENT
OF OUR SYSTEM OF HIGHER
EDUCATION AND THE POLITICS
THAT PERMEATE IT."

~ Nevada State Senator,
Raymond Shaffer