Lee's Book,
Democratic Efficiency
Inequality, Representation, and Public Policy Outputs
in the United States and Worldwide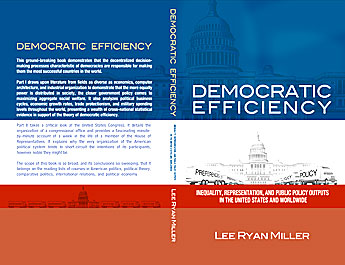 American politics is disrobed in this new book. It provides a minute-by-minute account of a week in the life of a member of the U.S. House of Representatives.
Political science professor Lee Ryan Miller accompanied Congresswoman Shelley Berkley (Nevada) during her grueling twelve to sixteen hour per day schedule for a whole week. He gives a fascinating account of Representative Berkley's meetings with government officials, staff members, journalists, lobbyists, and constituents. He provides a window into the work done by U.S. elected officials.
This book also provides a detailed description of the responsibilities of various congressional staffer positions, as well as some insights into how the organization of the U.S. Congress renders that institution unable to solve most of the problems faced by the United States.
Read more about this path breaking
new political science book.
LEE'S NEW BOOK

Teaching Amidst the
Neon Palm Trees



Click Here.
"A SHOCKING INDICTMENT
OF OUR SYSTEM OF HIGHER
EDUCATION AND THE POLITICS
THAT PERMEATE IT."

~ Nevada State Senator,
Raymond Shaffer